Mirai Sentai Timeranger is the twenty-fourth Super Sentai team. and is the first since Dairanger and Kakuranger to Have colored boots and gloves as well the two Red Sentai Ranger.
Timeranger
Edit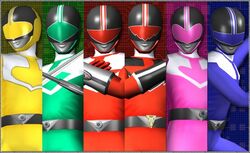 External links
Edit
Ad blocker interference detected!
Wikia is a free-to-use site that makes money from advertising. We have a modified experience for viewers using ad blockers

Wikia is not accessible if you've made further modifications. Remove the custom ad blocker rule(s) and the page will load as expected.