Kaizoku Sentai Gokaiger is the thirty-fifth Super Sentai team. They have recieved all the powers from the previous 34 Sentai teams (Goranger-Goseiger). They had keys to transform into any past Sentai Ranger. Gender-bender suits were included for the counterparts of theose who were male or female.
Gokaigers
Edit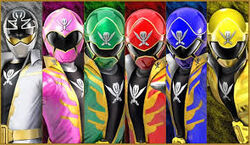 All Gokaiger Robos
Edit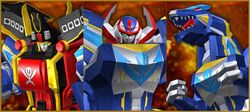 External links
Edit
Ad blocker interference detected!
Wikia is a free-to-use site that makes money from advertising. We have a modified experience for viewers using ad blockers

Wikia is not accessible if you've made further modifications. Remove the custom ad blocker rule(s) and the page will load as expected.